COLLARS, YANKS! & SNUFFLE MATS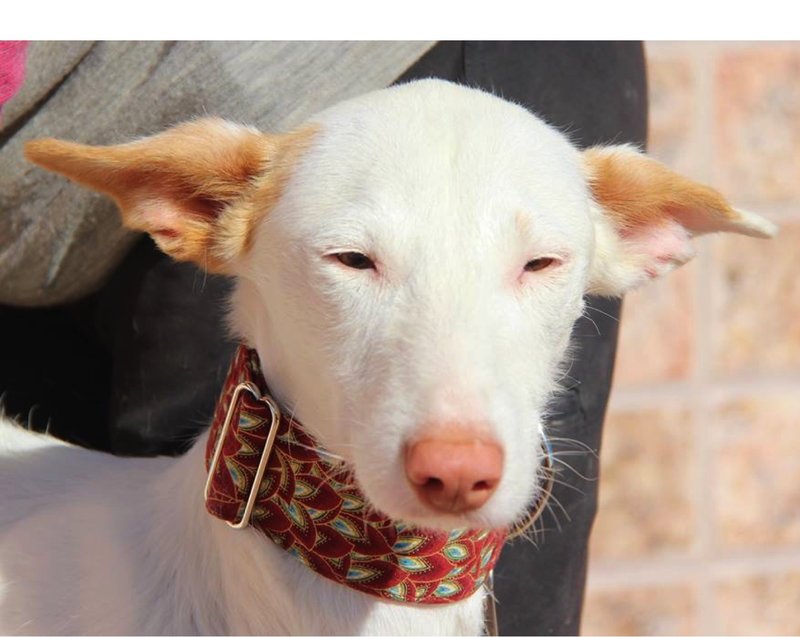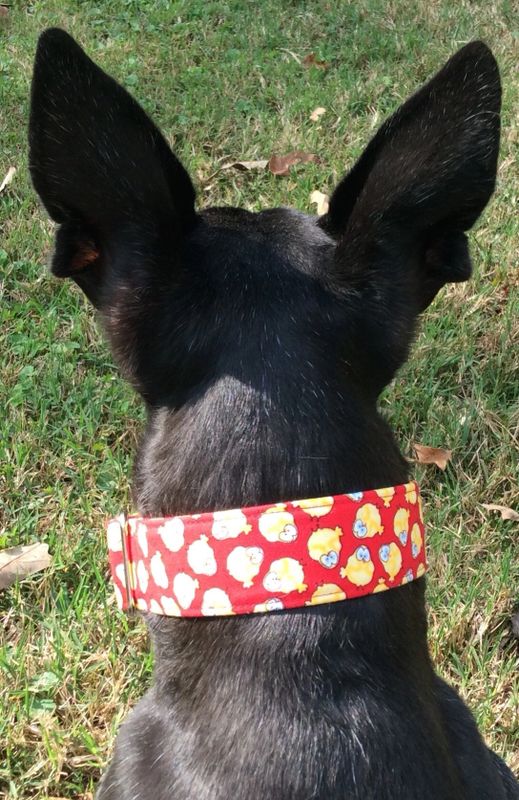 All of our collars are made from high quality and durable materials.  The webbing is a thin and super strong seatbelt webbing and we use heavy cast and welded nickel-plated, metal slides and D-rings. The plastic side-release buckles are solid and well made.  Collar fabric is lined with interfacing before being wrapped and sewn around the webbing for extra durability and wear, and for a nice hefty feel to the hand.
Martingale Collars, also known as Humane Choke Collars or Humane Restraint Collars, were originally designed for use on sighthounds (greyhounds, salukis, whippets, etc.) and other breeds whose heads are smaller than their necks, and who can therefore back out of a traditional collar.  A Martingale is made up of two inter-connected loops.  The larger loop slips over the dog's head onto its neck, and the smaller loop, called the control loop, attaches to the leash by a sturdy "D" ring. When the leash pulls on the "D" ring of the control loop, the two Control slides at the top of the neck loop are pulled towards each other and the collar tightens around the dog's neck. When pressure is released, the collar becomes slack again.
IMPORTANT
~ When the control loop is pulled, the two control slides on the neck loop should move
towards
each other (tightening the collar around the neck) but should
never
actually
meet
.  If they do, then the collar is too big and should be adjusted.  Today, more and more dog owners are discovering the benefits of a well-fitted Martingale collar for walking and comfortably controlling their dog.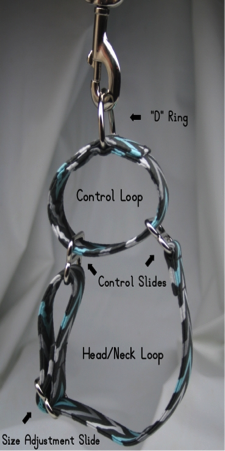 **There are some types of dogs for which a Martingale collar in not ideal: Dogs that have any medical issues in regards to pressure on their neck, larynx or esophagus;  Smaller dogs with very delicate necks;  Dogs who are very anxious, easily frightened, startled or apt to bolt.  For these dogs, a secure body harness paired with an ID collar may be a better and safer choice.
Martingale Collars should be used only when walking, training or actively controlling a dog and should be removed when the dog is inside the house or left unattended.

Ma

rtingale
Collars are available in 3 widths: 1" ( 2,5cm), 1.5" (3,9cm), and 2" (5cm).
Sizes: Small ~ 12"-15" (30,5cm-38cm), Medium ~ 14"-18" (35,5cm-45,9cm), Large ~ 17"-24"  (43,2cm-61cm),  and X-Large ~ 20"-29" (50,9cm-73,7cm).
Side-Release Buckle Collars
These collars have a metal slide to adjust the size of the collar, a hard plastic, side-release buckle, and a sturdy metal "D" ring to attach ID tags or a leash. They are quite popular for the lightness of the buckle and ease and quickness of the buckle release.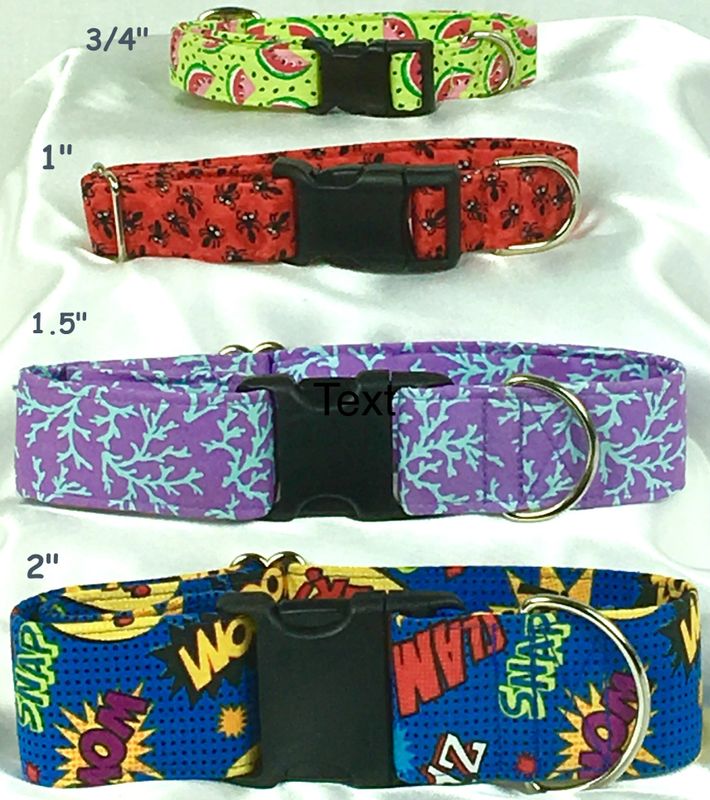 Side-Release Buckle Collars are available in 4 widths: 3/4" ( 2cm), 1" (2,5cm), 1.5" (3,9cm), and 2" (5cm).
Sizes: X-Small ~ 8"-12" (20,3cm-30,5cm), Small ~ 10"-15" (25,5cm-38,1cm), Medium ~ 14"-19"  (35,5cm-48,2cm), Large ~ 18"-23" (45,7cm-58,5cm ), X-Large ~ 22"-27" (55,9cm-68,5cm).
How to Measure Your Dog For a Collar
The easiest way to measure your dog's neck is with a cloth tape measure.  First, measure around the top of the neck, right behind the ears.  Second, measure again around the base of the neck.  Then, take the average of the 2 numbers.  A well-fitted collar is imperative in helping to keep your dog safe and comfortable.
YANKS! are made of 100% colorfast polyester fleece and are tightly hand-braided in the USA. 
There are an infinite number of color combinations available. Check out our fun stock of seasonal/holidays combinations, patriotic or military themes or the colors of your favorite sports teams. 
Treat your own furry 
friend, or bring one as a housewarming gift! 
YANKS! are available in 5 sizes:
Small: (approx. 20"L x .75"W) (approx. 50cm x 2cm)
Medium: (approx. 30"L x 1"W) (approx. 76cm x 2,5 cm)
Large: (approx. 40"L x 1"W) (approx. 102cm x 2,5cm)
Jumbo (approx. 36"L x 1.5"W) ( approx. 92cm x 3,8cm)
Sumo (approx. 60"L x 2.5"W) (approx. 152 cm x 6,3cm)
SNUFFLE MATS
A snuffle mat is a wonderful, interactive toy for your dog. It stimulates critical thinking, while also helping to slow down fast eaters.  Use it as a distraction from destructive behaviors and also as a great boredom buster.  Simply sprinkle some dry kibble or small treats in amongst the fleece and watch your pup "snuffle" around to find them!
Note: Always supervise your dog when they are engaged with the snuffle mat.  Do not allow dogs to chew on the fleece or on the rubber mat. At some point the fleece may start to retain the scent of the treats you put in it and your dog may want to chew on it.  If this happens, hand wash the snuffle mat in warm water with a touch of soap.  Rinse well and allow it to dry flat.  If your dog still shows interest in trying to chew the fleece, it's time to replace the snuffle mat.
Our Snuffle Mats are tied with high quality fleece on a heavy duty rubber backing, akin to the type you find on the floor of a commercial kitchen. Each mat measures 12"x 12" and weighs approximately 2.5 lbs!